We've got it covered!
–  Our we-pack-everything service means you don't have to worry about a thing. Using our specialised packing materials, all your goods and chattels, including valuables, are carefully protected and packed by our experienced team as if your possessions were their own!
–  If you would like us to pack only your fragile items such as glasses, pictures, ornaments and chinaware then we provide a part-packing service. This includes the supply of all other packaging materials for you to pack the rest of your possessions.
–  If you are self-packing, then we can supply you with the necessary materials for you do all the packing. Of course, we're available throughout should you need us to advise you. The moving boxes we supply are on a loaned basis (unless otherwise agreed) to help you whilst moving, so once you have completed unpacking we will make arrangements for collection.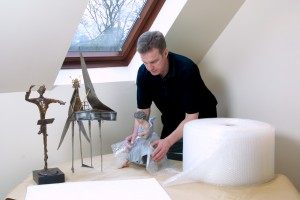 We use specialised furniture covers that are designed to maximize the protection of your possessions whilst being manoeuvred and during transit.
Our eco-friendly covers help to reduce the use of disposable packaging materials such as bubble wrap, cardboard and tape that would otherwise be required.